Seru, Duel Team SUADE Motorsport dan X-Side Rally Team di Kejurda Time Rally-1 Jabar
March 31, 2023 | Editor Sport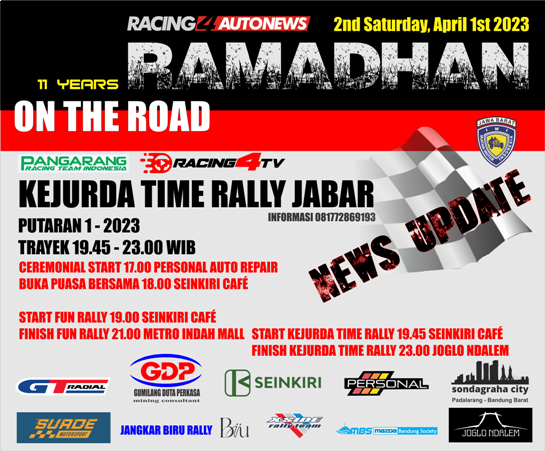 RACING4.NET - 31 Maret 2023 - Bandung - Puluhan starter ramaikan RAMADHAN ON THE ROAD 2023 Bandung di weekend 1 April petang hingga malam hari. Event yang didukung oleh IMI Jawa Barat, GT RADIAL, Jangkar Biru Rally Motorsport, Personal Auto Repair, Seinkiri Cafe, Gumilang Duta Perkasa, Mazda Bandung Society, Joglo Ndalem dan dikemas oleh RACING4 AUTONEWS Motorsport serta Pangarang Racing Team INA akan memperlombakan kategori kejuaraan daerah time rally dan city rally melintasi Bandung selatan.
Beberapa perally dan team rally ranking utama Jawa Barat 2022 telah memastikan keikutsertaannya, seperti M Avi Lutfi yang berpasangan dengan M Zaki, jawara time rally Jawa Barat dan peraih IMI JABAR Awards 2022 ini akan memperkuat SUADE MOTORSPORT Rally Team di musim 2023. Duel klasik pun akan terjadi saat runner-up 2022 dan mantan jawara time rally Jabar Ary Maulana dan Wildan Muchlisin dari X-SIDE Rally Team telah memastikan keikutsertaannya di event ini.
Masih ada beberapa nama lainnya yang telah memastikan tampil di Ramadhan On The Road dan Kejurda weekend ini. Namun apakah skuad team-nya akan mampu bersaing dengan SUADE Motorsport dan X-Side Rally Team yang masing-masing diperkuat juara bertahan dan mantan juara Jawa Barat? Kita tunggu kiprah mereka dan resultnya Sabtu malam (01/04) nanti.